As the 2020 presidential election is now less than four months away, Green Party candidate Howie Hawkins and Libertarian Party candidate Jo Jorgensen are registering support in national polls, signaling that their respective messages resonate with a segment of voters frustrated with Democrats and Republicans.
"The two governing parties are presiding over a failed state. The coronavirus epidemic, the climate meltdown, inequality with declining working-class life expectancies and a nuclear arms race out of control with none of the candidates talking about it," Hawkins, 67, who co-founded the U.S. Green Party in the 1990s, told Newsweek in an interview. "So, we need to go in another direction."
Jorgensen, 63, has voiced similar frustration. "There is an ugly two-headed monster ruling our country who is destroying our economy, invading our privacy, and eating away our rights," a recent campaign email for the candidate said, taking aim at Republicans and Democrats.
The Libertarian candidate told Newsweek that she doesn't see a big difference between President Donald Trump, the incumbent Republican, and Democratic presidential candidate Joe Biden.
"My criticisms are the same for both," she said. "Both candidates want to spend more of our money instead of allowing us to make our own decisions. Both are war hawks. Trump promised to bring the troops home, but he hasn't. Biden certainly isn't going to do that either."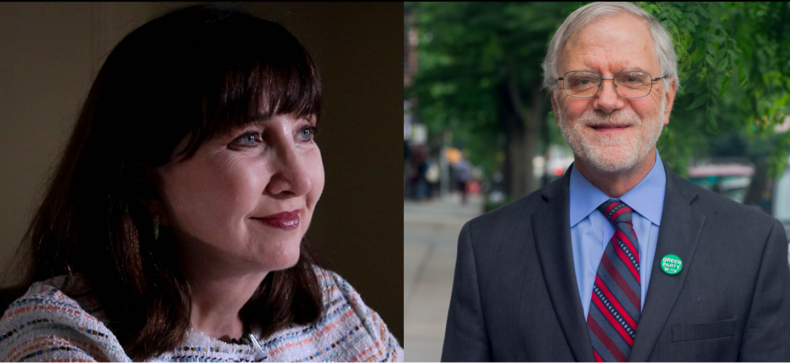 Polling conducted by CNBC/Change Research from July 10 to 12 showed Hawkins with support from 2 percent of respondents, while Jorgensen was backed by 3 percent. Although that's marginal compared to the 51 percent support for Democratic presidential candidate Joe Biden and the 41 percent for Republican incumbent President Donald Trump, even a few percent could sway what ultimately could become a close election. Separate polling this month by Redfield & Wilton Strategies showed Hawkins with 1 percent support, while Jorgensen was backed by 2 percent of respondents.
Hawkins spoke optimistically about the recent polls, noting that support for him has already doubled from 1 percent to 2 percent. "There's still time if we keep growing at that rate. It's a long shot, no doubt, but we do expect to impact the debate," he said.